About Shirdi
A small village in Ahmednagar district, Shirdi has become famous all over India on account of its association with the renowned Saint Shri Sai Baba. Pilgrims belonging to all faiths, throng here all the year around.
| | |
| --- | --- |
| Kakad Arati | 5.15 a.m. |
| Holy Bath of Shri Sai Baba | 6.00 a.m. |
| Darshan Begins | 7.00 a.m. |
| Satyanarayana Pooja | 9.00 a.m. |
| Abhishek | 9.00 a.m. |
| Noon Arati | 12.00 noon |
| Pravachan or Pujan | 4.00 p.m. |
| Dhuparati | At Sunset |
| Bhajan, Keertan | 9.00 p.m. |
| Shejarati | 10.00 p.m. |
Shirdi Guide Line and General Information:
For proper guidance and assistance to the devotees, Reception centers have been opened opposite the S.T. Bus stand.
On arrival to Shirdi, devotees should immediately get in touch with the above mention Reception centers of the Sansthan and should thereafter proceed to the Enquiry Office for booking their accommodation which is made available after registration of name and other particulars.
Occupied room(s) should be locked before going out.
If the accommodation provided is in the common hall, luggage should always be left in charge of a member of the party to safeguard it from anti-social elements.
A locker is available at nominal charge and against a deposit, which may be booked at the enquiry office, and used for keeping luggage or any other valuables.
Care should be taken not to leave any belongings behind in the toilets and the bathrooms.
As the Samadhi Mandir is over-crowded at the time of Arati, devotees should safeguard their ornaments and purses from pick-pockets and mind their children.
Devotees should note that all religious functions and Poojas in the Sansthan premises are to be arranged and performed through the office of the Sansthan. Necessary payments for these are to be made at the office against a receipt. Boxes have been provided by the Sansthan in the Mandir itself to receive the devotees' offerings by way of Dakshina and Hundis.
Offering to Shri Sai Baba in cash or kind should always be made at the office against a receipt.
Devotees should bear in mind that Baba left no heirs or disciples and should guard themselves against such deception practiced by impostors.
As all the necessary assistance and guidance is readily available to the devotees at the Reception center of the Sansthan, assistance from unauthorized guides at the S.T. stand, if taken by the devotees, will be at their own risk.
Devotees are warned against practitioners of black magic professing allegiance to Shri Sai Baba, and also against those circulating chain-letters, asking the receiver to send a certain number of copies of the letter to his friends.
Literature about Shri Sai Baba containing authentic information has been published by the Sansthan and is readily available at book shops near the Samadhi Mandir.
A complaint/suggestion book is always kept in the office for the use by the devotees, in which they are requested to write clearly their complaints/suggestions along with their full name(s) and addresses. The Sansthan authorities take due note of such complaints/suggestions.
Donations should always be sent by Money Orders, Postal Orders, Crossed and A/c. Payee Cheques or Drafts to ensure safe delivery of the same. Do not send cash or currency notes in postal envelopes.
As the various dealers and vendors of Pooja articles are not connected with the Sansthan, devotees should first fix the price before buying these articles to avoid any trouble thereafter.
All donations for oil for the Nanda-deep and for firewood for Dhuni in the Dwarkamai are to be given in the Accounts office only. Further details regarding these can be obtained from the Temple-in-charge.
Devotees desirous of feeding the poor can arrange to do so against cash payment to be made to the Prasadalaya itself or the account office. Coupons are not accepted for this purpose.
Devotees desirous of distributing alms to beggars can do so only in the beggars' shed, near Prasadalaya with the help of the Security officer.
Devotees making correspondence should give their complete and correct addresses.
Devotees are requested to avail of the facilities at the Tea canteen and Prasadalaya run by the Sansthan where tea and meals are served at subsidized rates.
Medical facilities are available at the well-equipped Sainath Hospital run by the Shirdi Sansthan.
The Sansthan has not appointed any representative for the purpose of collecting donations in cash or otherwise. Devotees are informed that no donations either in cash or otherwise should be given to anybody personally. This is to avoid deceit as well as to prevent devotees from being cheated by unscrupulous elements.
Samadhi Mandir
The temple premises of Shri Saibaba is in the heart of Shirdi village and is a major center of pilgrimage from all over the world. The Temple premises is renovated in the year 1998-99 and now is equipped with all necessary facilities The accommodation Facilities are also provided by the Sansthan. Facilities like, Darshan Lane, Prasada (Lunch and Dinner), Donation Counters, Prasad Counters, Canteen, Railway Reservation Counter, Book Stall etc.
The divine statue of Sai Baba was built by Late Balaji Vasant in 1954 and is situated within the Samadhi Mandir. The temple can accommodate 600 visitors in its assembly hall. One can experience the life of Sai Baba through the paintings situated on the first floor of the Samadhi Mandir.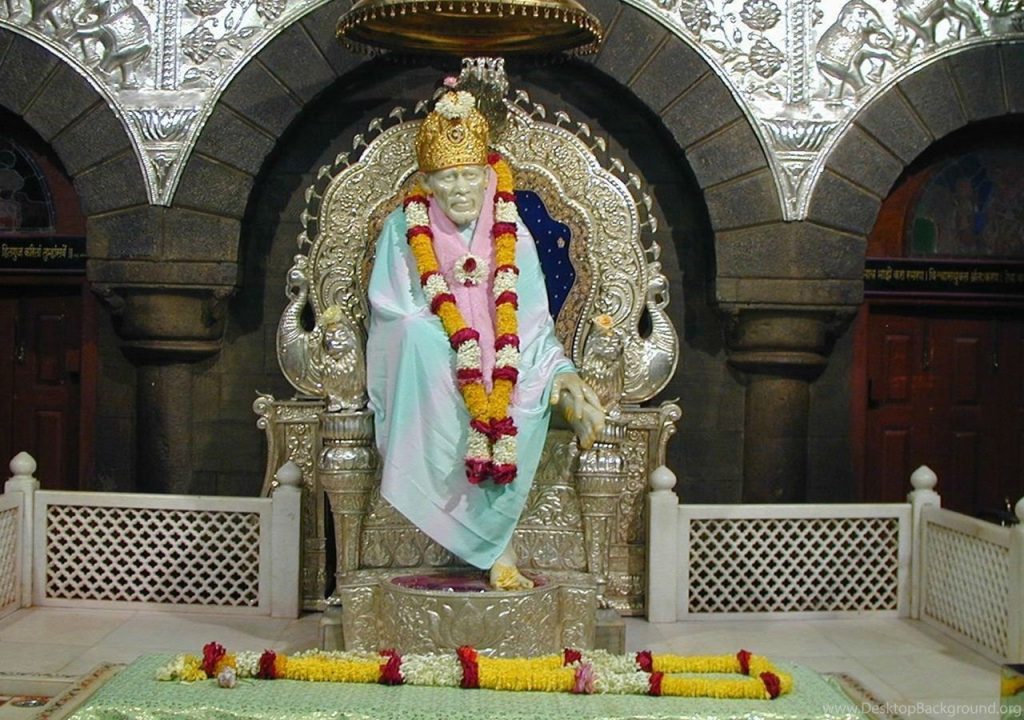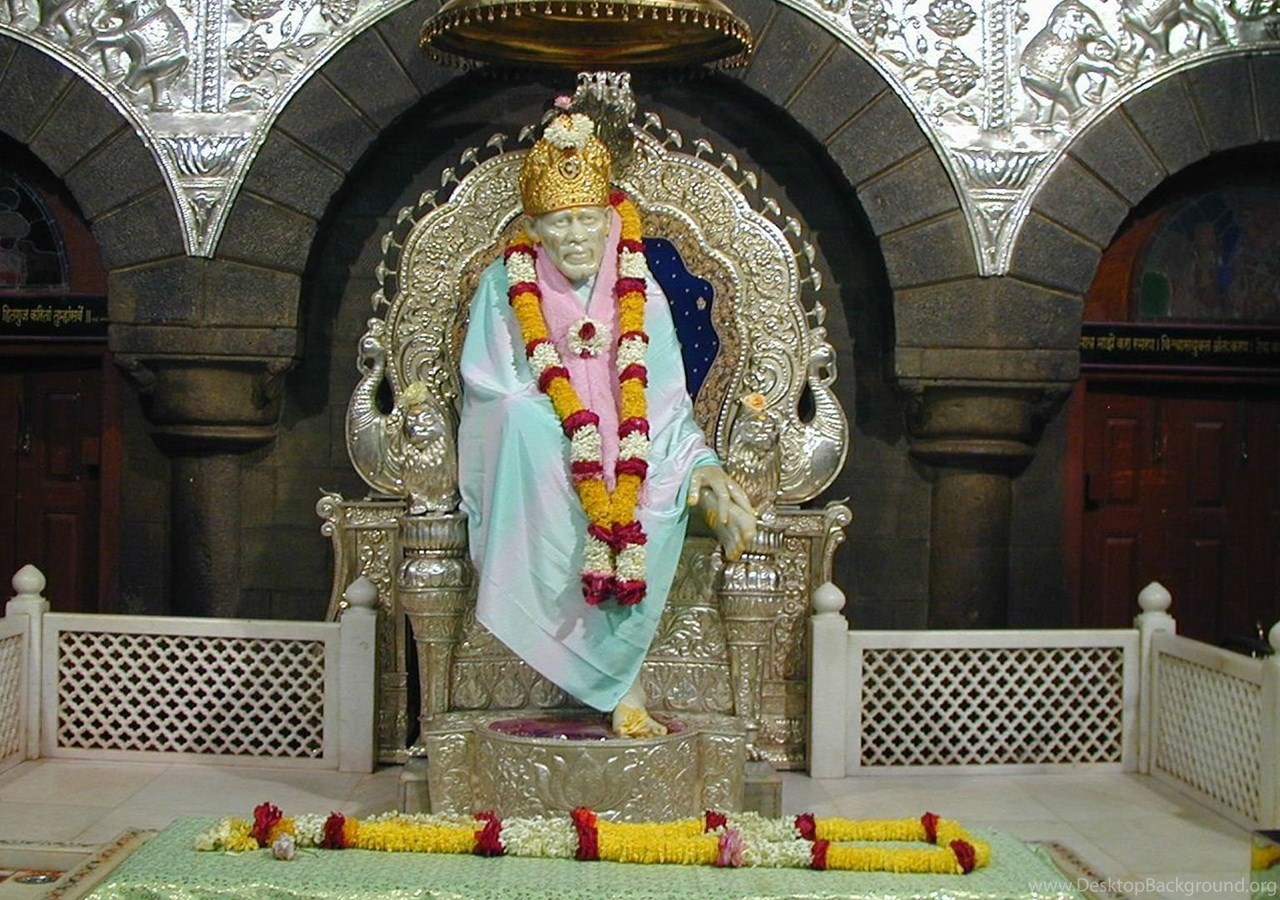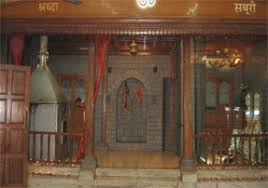 Dwarkamai
The things handled and used by Shri Saibaba, like the Stone (sitting place) of Baba, Palakhi (Palanquin), Chul (Clay stove), Kolambe (small earthen pot), Samai (lamp), the bag of grains, and the Khamb (a wooden pillar) can be seen here. Shri Saibaba used to sit and take rest at this place. This is the main place where people used to meet Baba.
Baba turned it into Dwarkamai and proved that God is one. The first level of Dwarkamai has a portrait of Baba and a big stone on which Baba used to sit. This level has two rooms. One contains the chariot and the second a palkhi. Just in front of the room where the chariot is kept is a small temple.
Chawadi at Shirdi
Baba, along with his nearest followers, used to stay here at every alternate nights. Because of this reason, this place has achieved a great importance. The chair, on which Baba used to rest, and the bed, on which Baba had his last bath, are also kept in this temple. This temple is approximately 300 Meters from the Bus Station.
Inside the Chavadi is a large portrait of Baba which was painted by Ambaram from Nausari in Gujarat, after Baba had given him darshan in a dream in 1953. At the time, Ambaram was only eighteen years old. Touched by Baba and Ambaram's painting of him, the villagers of Nausari collected donations in order to buy the painting and bring it to Shirdi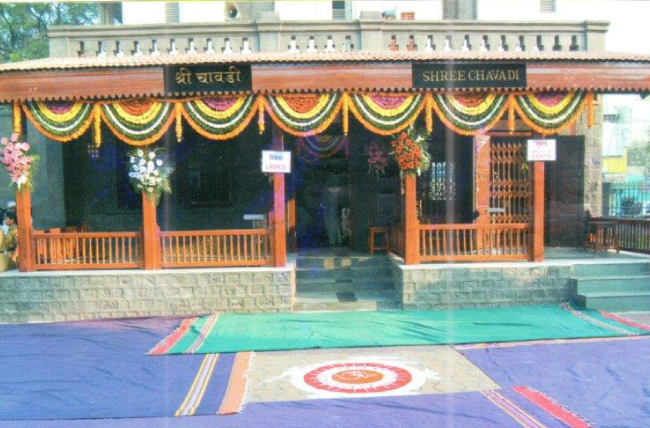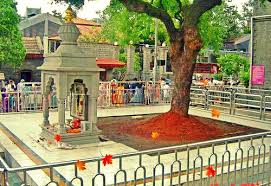 Gurusthan
This place of Shri Saibaba's Guru (Master) is famous as "Gurusthan". Baba was first seen at this place, when He was 16. The well known "Neem Tree" described in Shri Sai Satcharitra can also be seen here. This place has achieved importance because it is believed that, if "Agarbatti" is lightened at this place, on every Thursday and Friday, the devotees can get what they pray for.
The Gurusthan was renovated on 30th September, 1941. After this the present temple was built. There is a small shrine in Gurusthan. On a elevated platform of this shrine a big portrait of Lord Sai Baba is placed.